Berry Bundt Cake Recipe
Loaded with Berries!
I love this Berry Bundt Cake... it's probably my favorite one to bake. The yogurt in the batter keeps the cake moist.... and the lemon zest makes it sing. Plus, it's LOADED with berries. You can even use frozen ones (they come in a bag in the freezer section of the grocery store... blueberries, raspberries or blackberries are best... you can use the extra in a smoothie).
This is a great cake to take along on a picnic, or on an overnight event (we go to soccer tournaments, and we spend nights in hotels far from home... cake is good). It stays moist and delicious. You can ice it with a simple lemon/powder sugar glaze, sprinkle it with powdered sugar, or just leave it plain.
It's delicious any way you slice it.
Berry Bundt CakeFollow the Link to My Recipe
Original Bundt Cake Pan
To Make a Bundt Cake.... You Need a Bundt Pan
This is the basic bundt pan.... the one David Dalquist created in 1951 (well... this is a picture of one that looks like the one he made).
If you are just starting out in Bundt Cakes... try this pan first. It's fairly forgiving (you will have fewer "Gosh Darn It!" moments from a stuck cake).
This is the Bundt Pan that set the trend in motion.
Chocolate Bundt Cake Recipe
Dense, Moist, Rich, Delicious Chocolate Bundt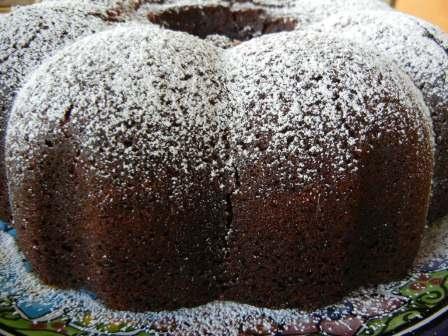 Chocolate Bundt CakeFollow This Link to the Recipe
This super fudgy, super yummy Chocolate Bundt Cake is unbelievably good. It's made with melted chocolate chips AND chocolate syrup.
You can easily "decorate" this cake with a sprinkle of powdered sugar... in fact, this is my preferred method if I'm taking it on a picnic... or feel like watching calories (yes, I know... how many calories can you save by skipping frosting anyway... I'll tell you... an extra piece of cake worth).
Coconut Pound Bundt Cake Recipe
Serve With Berries... and Maybe Whipped Cream for a Wonderful Dessert
This Coconut Pound Cake is LOADED with coconut flavor....from added coconut and from Creme of Coconut (that stuff that you use to make Pina Colodas... yes, there is a substitute). It's dense... but light (sounds like a contradiction... but it works). The cake travels well... for picnics, potlucks or trips out to the pool.
I glaze it with a simple Coconut Glaze, and serve it with fresh berries.... but you can serve it as it comes (just cut off slices and pass them into the hands of people who wander through your kitchen).
Coconut Pound CakeFind My Recipe Here
Marble Pound Cake Recipe
Chocolate AND Vanilla... for people who can't decide.
This is another one of those cakes that APPEARS to be magical, but it's fairly straight forward.
Make a basic vanilla cake batter... put half in a bundt pan... add chocolate to the other half... then swirl them together.
Because this is basically a pound cake, it is dense.
Dense is good
Dense travels well..... I have baked this cake, sliced it and carried it THROUGH THE ZOO, and fed a load of delighted children hours later.
No fussing with frosting, a simple chocolate glaze will do.
Marble Pound CakeFollow this Link to my Recipe
Bundt Cake Pans Come in a Variety of Styles
Listed in Difficulty (or frustration) of Use Order
Peanut Butter and Chocolate Bundt Cake Recipe
Bundt Cake with a Magic Middle
Serves: Makes 1 Bundt Cake.... enough for the average 18 year old boy (or will feed 97 supermodels for a week).
Prep Time: 15 minutes
Total Time: 2 hours (includes cooling time)
How did the circle of chocolate get in to the middle of the cake? Ahhh... Bundt Cake Magic!
(The scientific explanation has to do with the density of the chocolate batter in relation to the peanut butter batter.... Magic has a better ring to it.)
Basically, you are making one batter..... divide it into 2/3 and 1/3... then add chocolate to the 1/3 (you don't even have to wash the mixing bowl). Pour the chocolate OVER the Peanut Butter and Ta DAH!
This cake is popular with the kids... well... those who like peanut butter. Feel free to sprinkle some nuts on top of the glaze (actually, if you are taking the cake to a party, it would be smart to decorate any nut cake with nuts... gives those allergic people the heads up).
Ingredients
3/4 cup Butter (I prefer Unsalted) Soft
3/4 cup Peanut Butter (smooth)
1 cup Granulated Sugar (the plain white stuff)
1/2 cup Brown Sugar (light or dark.. up to you)
2 tsp Vanilla Extract
3 Eggs
2 3/4 cup Flour (I like Unbleached
but all purpose works fine)
2 tsp. Baking Powder
1 tsp Baking Soda
1 cup Buttermilk (or 1 cup milk with a teaspoon of lemon juice)
3/4 cup Chocolate Syrup (the stuff you make hot chocolate or cover ice cream with)
GLAZE (optional)
1 1/2 cup Powdered Sugar
1/4 cup Chocolate Syrup
1 tsp vanilla extract
chopped peanuts (just a few for decoration if you like)
Instructions
Preheat the oven to 350 degrees Fahrenheit (Turn the oven on BEFORE you start mixing anything)
Grease the heck out of your Bundt Cake Pan (12 cup ...approx 10 inch). Use the spray stuff.
Get out your mixer (I use a stand mixer, because I am lazy by nature.... you can use one of those hand held things....don't know about a wooden spoon, maybe it would help if you had Superman come help you beat the batter up).
Put Butter, Peanut Butter, and Sugars (brown and white) into the mixing bowl, and beat on low speed until it's all smooth and combined.
Add the Vanilla... beat to combine
Add the Eggs... one at a time... (I don't have to tell you that you just want the stuff INSIDE the shell, right?). Beat on low between each addition. You want the egg stuff completely incorporated into the butter stuff.
In a large measuring cup... or another bowl... combine the flour, baking powder and baking soda.
Got your buttermilk ready?
With the mixer on low (unless you were planning to have a shower and redecorate the kitchen anyway) add some of the flour mix.... then some of the buttermilk.... then some flour... then some buttermilk....
Let the ingredients combine in before adding more.
Keep going until it's all in.
Scrape down the sides of the bowl.... and beat on low for another minute or so until everything is good and mixed in.
Got your Bundt Pan prepped?
Pour 2/3 of the batter into the bundt pan. (You can measure if you want.... I tend to eyeball it) You want to keep about 2 cups of batter in the mixing bowl.
Spread the plain batter in the pan a bit to smooth it out.
NOW
Add chocolate syrup to the batter still in the mixing bowl.
Mix it in good.... scrape, mix.... you don't want streaks.
Now.... spoon the chocolate batter over the top of the peanut butter batter.... just plop even amounts of the chocolate batter all around. DON'T PRESS IT IN... Just spoon on...
Smooth the chocolate out... DON'T PRESS... just smooth with a spatula.
Put the Cake into the oven for 1 hour and 10 minutes... it might take a bit longer, up to 10 minutes longer depending on your oven. The cake is done when you stick a toothpick in it, and it comes out clean, or just with crumbs.
(I find that Cake in the Oven Time is a good time to force the kids to do their chores... they can smell the cake, and know they will get some if they behave..... Meanwhile, I grab a magazine and head for the sofa).
Let the cake cool on a wire rack for 45 minutes.
Ok... moment of truth..... you have to get the cake OUT of the Pan.
Kind of check with your fingers if the cake is loosened from the sides (no, you can't possibly see the bottom... just the top edge)
Grasp the pan firmly with both hands
Make a wish to the bundt fairy
And
FLIP
BANG
Onto the rack (I've broken more than one cake plate... I bang hard) Then transfer to the serving plate.
Did it work? (If it didn't, don't cry... hide with icing)
Let the cake cool completely before glazing.
GLAZE
Combine the glaze ingredients in a bowl.... spoon over the cooled cake.
Top with nuts if you want to.
Eat.
Mango Rum Upside Down Cake
(sshhh... this one uses a mix)
Mango Rum Upside Down CakeFInd My Recipe Here
This cake is super easy, because it uses a cake mix as its base. (It also happens to be reasonably low fat, and loaded with fruit, so you can justify eating several pieces).
I make this cake with Mangos... either fresh or canned.... but the cake can easily be made with peaches. (If the thought of cutting up Mango leaves you perplexed... there is a tutorial in the recipe).
And if you decide you'd rather not have rum in your cake.... you can use water or apple juice instead.
This cake makes a great summer dessert.... perfect for mid-afternoon. It's also a fun dessert for a luau or tiki party.
Rum Cake Recipe (FROM SCRATCH)
It's not hard... promise....
Rum Cake Recipe from ScratchCHECK PRICE
I love a good Rum Cake.... (who doesn't ?) but most Rum Cake recipes start with a box mix. This one is from scratch.
It's a straightforward recipe using yogurt.. and it's dense and flavorful (as a Rum Cake should be). Now... it is made with actual rum. I've heard the alcohol bakes out of recipes when you are making cake.... I will let you be the judge of that. (A pregnant friend absolutely REFUSED to eat even a tiny piece...) ( on the other hand... if the kids are particularly spastic, this cake might help... ) (NO! I'm not advocating giving the kids alcohol....it bakes out).
I forgot my point.
Ok.
You can add a rum syrup over this cake to give it added juiciness....
Enjoy a taste of the tropics.
Cardamom Walnut Bundt Cake Recipe
Delightful with a Cup of Coffee
Cardamom Walnut Bundt CakeFollow this Link to My Recipe
Ok, now before you write this Bundt Cake Recipe as too difficult of too strange.... try it.
Cardamom is a yummy spice that tastes of lemons and spices and exotic places somewhere you've never been. Get the small bottle to start if you are nervous (warning... you will go back for the big bottle.)
This recipe calls for a mixture of walnuts and sugar to be layered into the cake.... not a problem. Dump half of the batter into the pan... sprinkle on nuts.... dump on rest of batter.
I "decorate" this cake with powdered sugar....
(ps. My doctor loves this one) (what? you go to the doctor empty-handed?)
Citrus Coconut Mini Bundt Cakes Recipe
A Bit More Complex... But Worth It.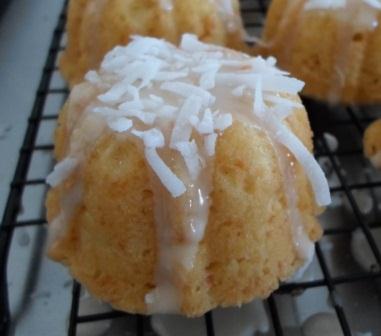 CItrus Coconut Mini Bundt CakesFollow the Link to My Recipe
This tiny Bundts pack quite a citrussy punch. I bake them as mini's, because....well.... the first time I made these was for a tea party, and they wanted 'little cakes'.
I think they look darn cute this way... so now I always make this cake as minis. (You CAN make it as a full sized Bundt cake.... adjust the time in the oven).
Ok.. now... the ingredients in this cake are a bit more exotic than in a simple chocolate cake.... you need Kumquats (and they are kind of fiddly to de-seed.) When you have a few simple cakes under your belt, give this one a try.
I promise.... you will not be disappointed.
Mini Bundt Cake Pans
For Mini Bundt Cakes
There are 2 basic styles of mini-bundt pan.... The first is a small version of a regular bundt, complete with a hole in the middle. The second does not have a hole in the middle, just a dent.
What's the difference?
Well....
The Mini-Bundt with the hole... like the Wilton Pan... will make bundt cakes that look like bundts. You will have to be careful with the timing, with more "pan touching batter surface area", the baking happens faster, and you run risk of drying them out.
The Mini-Bundt without the hole.... like the Nordic Ware Pan... will make bundt cakes that look like filled bundts. They have a dent, rather than a whole. Basically, you have a fancy looking, upside down cupcake.
Which is better? Up to You... I use both.
Wilton Mini 12 Cavity Fluted PanCHECK PRICE
Nordic Ware Pro Cast Bundt Brownie PanCHECK PRICE
More Easy Bundt Cake Recipes
The Lemon-Lime Soda adds a delicious taste to this sweet and light cake.
From a MIX
The Angry Baker Has a Facebook Page
I'd Love it if You'd Like Me
Facebook Fan box widget may not always appear in the Workshop. Please preview or publish your lens to see the widget.
Follow the Angry Baker on Twitter
Right this way....
baker cyst senior picture ideas